KEIZER GIRL GETS WISH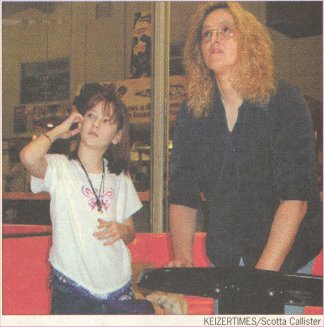 Published: May 2, 2003
By the Staff Of the Keizertimes

Codi Frazier, the Keizer girl who is battling inoperable cancer, was scheduled to take a quick trip to Disneyland this week.
Her aunt, Loni Barrett, said she and Codi's stepmother will accompany the 10 year-old on the three-day trip.
Plans still call for sending her whole family on a Disneyland trip later . However, Codi is starting a new type of drug therapy, and her doctors aren't sure how it will affect her. With that in mind, her supporters wanted to give her a quick trip now.
The drug therapy, part of a nationwide trial, will be administered at Doernbecher Children's Hospital in Portland. The program is testing the drug on patients with inoperable cancer.
In the meantime, community fund-raisers are helping the family defray some medical costs and also pay for travel expenses.
Last Friday, Town & Country Lanes dedicated proceeds from a day of bowling to Codi. In addition, the Fire & Soul coffee and pottery studio planned a dessert and concert to help out this Wednesday, past press time.
Codi's school, Cummings Elementary School, is accepting donations for the family. The checks should be made out to Cummings School and marked "for Codi Frazier."
And Codi is keeping her friends and supporters updated on a new Web page, www.codibug.com. The page includes a guestbook that already has drawn numerous entries. Visitors who have offered words of encouragement come from as far away as Texas and Alaska.
The Keizer Times is a publication for the Keizer community, and focuses on Keizer-specific news and events.
Contact us at: Keizertimes 142 Chemawa Road North Keizer, OR 97303
Phone: (503) 390-1051
Fax: (503) 390-8023
© Copyright 2000-2003 Keizertimes, Inc.