11-year-old faced death by embracing life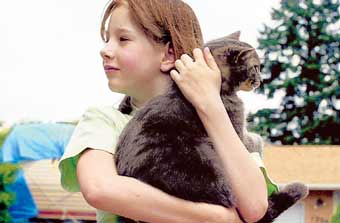 ANDREA J. WRIGHT / Statesman Journal

Codi Frazier, 11, grand marshal of the Relay for Life, died Tuesday after a bout with cancer.

Codi Frazier's upbeat outlook inspired many.

SUSAN TOM
Statesman Journal
September 24, 2003

Codi Frazier, the spunky grand marshal of this year's Relay for Life, died early Tuesday. The 11-year-old, who had osteosarcoma, an aggressive bone cancer, spent the last moments of her life surrounded by family and friends at Doernbecher Children's Hospital in Portland.



Loni Barrett, Codi's stepaunt and caregiver, said the girl lived first-class from the time that her cancer was diagnosed to the time that she died.



"She got things and got to do things that children dreamed of," Barrett said. "It was a whirlwind series of activities she enjoyed tremendously. It brought a lot of love and happiness to her."



Codi's sunny-side-up outlook captivated the hearts of many during her short but full life.



"I think positive, look at the bright side," Codi said in an interview in the spring. "I want to enjoy all the moments before I die."



Gov. Ted Kulongoski, who survived a bout with cancer himself, was among those touched by Codi's courage and strength.



He invited Codi and her friends to Mahonia Hall for a slumber party. They ate waffles cooked by the state's first lady and attended the wedding of Patrick and Slush — Codi's two stuffed dogs. Oregon Supreme Court Justice Robert Durham performed the ceremony and read a poem.



Kulongoski said Tuesday that although Codi had complete knowledge about her condition, she never quit trying to live. He admired her tenacity and attitude.



"She was very precocious and, at the same time, a very sophisticated young lady," he said.



Barrett worried about moving Codi from Keizer to West Salem this summer. It turned out to be a good decision. Codi loved it and spent hours on the front porch swing watching birds and squirrels, listening to the creek, and enjoying the sounds, sights and smells.



"She perked up," Barrett said.



Codi lived more in her last year of life than most people do in a lifetime.



She has been an honorary state senator for a day, a drag race crew member, an honorary Kiwanis and Rotary member, and a Keizer Iris Parade float personality. She has gone on a Make-A-Wish Foundation Disneyland trip, been the subject of her own song "Codi Bug" by Michael Mugrage, and even has an iris — "Codi's Angel Face" — named after her by Schreiner's Iris Gardens. Strong community support made rides on Salem's Riverfront Carousel, excursions to the Oregon Museum of Science and Industry and trips to the A.C. Gilbert's Discovery Village possible.



Colleen Friedrich, a counselor at Cummings Elementary School, said Codi was an amazing child who brought the entire community together.



"The outpouring of love that has come from all around because of this child is incredible," Friedrich said, her voice choked up. "She's gone through cancer, amputation, the loss of a parent, diabetes and now this again, cancer. Yet she never, ever complained. She came in here and opened her life to everyone around her and invited us all in."



School counselors were at Cummings Tuesday to help students deal with Codi's death.



Just a week and a half ago, the school made a video for her that included personal greetings, a school song and teachers doing the chicken dance. Watching the tape brought a smile to Codi's face.



Teagan Qual, 10, of Keizer, who stayed home from school Tuesday, said Codi was a great friend. He would stop by Codi's house in Keizer and wait for her to finish breakfast, then walk her to the bus stop.



"She was really nice, and it was quite easy to make friends with her," said Teagan. "I'll miss her voice. I liked it when she laughed."


Susan Tom can be reached at (503) 399-6744.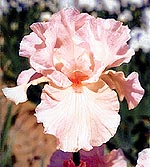 Special to the Statesman Journal

Schreiner's Iris Gardens named "Codi's Angel Face" after Codi Frazier.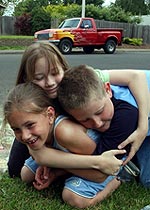 ANDREA J. WRIGHT / Statesman Journal

Codi Frazier (center), 10, her best friend, Teagan Qual (right), 9, and Teagan's cousin played in June in Keizer.

Link

The viewing will be at Barrick Funeral Home, and funeral services will be at Westminster Presbyterian Church.


Click here for times and dates of the services, or to see pictures of Codi and her life.