Click The Links To View News Articles (In New Windows)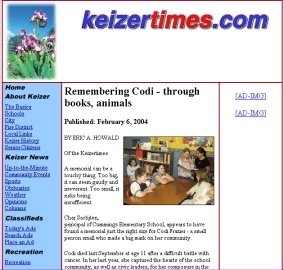 Keizer Times Newspaper - front page (2/6/04)
Remembering Codi - through books, animals
---
Statesman Journal Newspaper - Local Section 12/3/03
Stories, Santa Highlight Event
---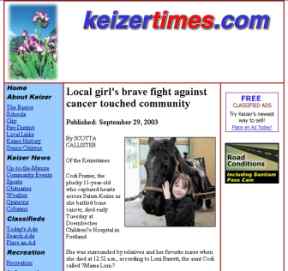 Keizer Times Newspaper - front page (9/29/03)
Local Girl's Brave Fight Against Cancer Touched Community
---


Keizer Times Newspaper - Opinions (9/29/03)
Let Codi's Legacy Be Shown in our Lives
---


Speedzone Magazine (9/29/03)
Press Release: In Memory of Our Precious Codi Bug
---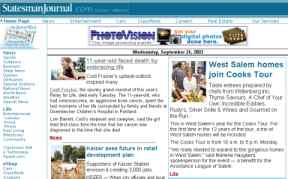 Statesman Journal front page (September 24, 2003)
11-year-old faced death by embracing life
---
Mitch Myers, Epha and Codi Frazier!! (August 11, 2003)
Mitch Myers runs a Top Alcohol Dragster that has the name "Epha" on the side of it. And, if you look closely, you'll also see the name "Codi" on the back of the injector scoop on Mitch's car. So what do Mitch, Epha and Codi all have to do with one another? Well…..
---


East Oregonian (July 17, 2003)
Drag racers fire up their cars for 10-year-old cancer victim
There is no shortage of heroes in the world of athletics. But professional athletes, the same people admired by children and those young at heart, have heroes of their own. And if you were to ask the professional drag racers in the Northwest who they admire most, the answer wouldn't be another racer. It would be Codi Jean Frazier, a 10-year-old girl from Keizer. ...
---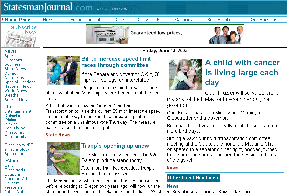 Statesman Journal front page (June 13, 2003)
A Child Living With Cancer is Living Large Each Day
---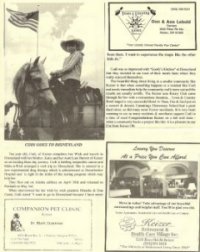 McNary Estates Newsletter (June, 2003)
Codi Goes to Disneyland
---

SpeedZone Magazine (May, 2003)
Rich Bailey and Capital Racing bring out a new crew chief for the weekend
---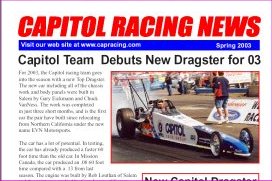 Capitol Racing News (Spring 2003)
Capitol Hosts Special Fan at Opener
---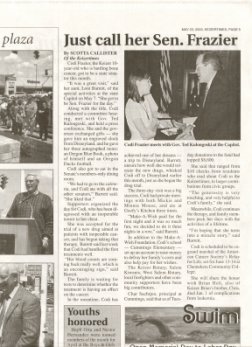 Keizer Times 05/23/03
Just Call Her Senator Frazier
---
KGW Channel 8 News - Photos
State Capitol News Conference by Codi Frazier
---
Keizer Times 05/02/03
Keizer Girl Gets Wish
---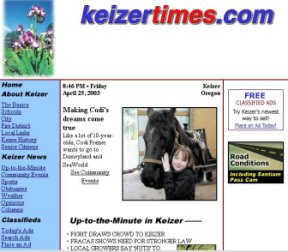 Keizer Times front page 04/25/03
Making Codi's Dreams Come True
---
Las Vegas Review Journal 02/26/01
Visit from the Spin Doctor
---

Click Here for Information about Codi's Corner Memorial Library Collection at Cummings Elementary School