Keizer, Oregon (My Home)
Original Site Content by Codi Frazier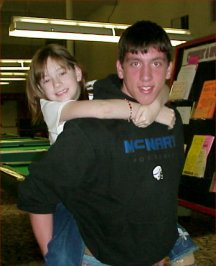 I live in Keizer, Oregon. Keizer is a suburb of Salem, Oregon, the Capitol of Oregon. I have only been living in Keizer since last summer but it feels like I have lived here for a long time and that this is home. Everyone here has been so nice to me.
My school, Cummings Elementary, has the best teachers, staff and students, they have visited me in the hospital, and a lot of the students made get well cards for me. I have friends at school. 
Another favorite place I like to go to here in Keizer is The Dollar Store. I love that store because where can you get so many fun toys but you don't have to spend too much money. I also like going to Hollywood video and renting movies. The Rite Aid and Walgreens Stores is where I get my diabetic supplies. We also shop at the Safeway and Roth's Grocery Stores.
I used to have fun going to Spong's Landing which is a neat park right on the river on the outskirts of Keizer, but it hasn't been open to the public lately, I hope it's just because of the weather and they open it back up for summer. It has picnic tables and horseshoe playing areas out there and hiking trails, it's a lot of fun.
I went to the Wheatland Ferry right outside of Keizer too, that's a fun thing to do is to drive onto the Ferry and let it carry you across the river to the other side.
Keizer, Oregon Fundraisers
The Town and Country Bowling Lanes had a fundraiser for me on April 25, 2003. People from all over the community (parents, students, teachers, business owners, churches, family, etc.) turned out to support me and it made me feel so good and so happy. Keizer Florist sent beautiful flowers too. I got to play video games, and bowl, and I met a lot of people, I had a wonderful day. My sister goes to Claggett Creek School and my brothers Wesley and Brandon go to McNary High School and the students from both schools also showed up for the Bowl for Codi Frazier Day. I just can't believe it.
The Coffee/Ceramics shop Fire and Soul here in Keizer is also having a fund raiser for me on April 30, 2003. I will let you guys know how much fun I have at that one by updating this page after the 30th.
Keizer Times Newspaper Article
The Keizer Times Newspaper printed a story about me and I was on the front page of the paper. That was really a shock but a nice surprise.