Cummings Elementary School
Beginning of Codi's Original Site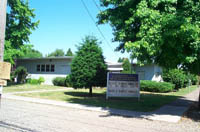 I am in 4th grade at Cummings Elementary School in Keizer, Oregon. My principal is Mrs. Charlotte Sachtjen and my teacher is Mrs. Jennifer Bethers. All the teachers and staff are really nice and helpful. 
I think Cummings Elementary is the best school in the whole world! They have been really good to me. They make sure I'm treated like any other kid in school, which is really cool. All the kids and the teachers like me. When I've been in the hospital, they send me cards to make me feel better and they even visit me, all the way in Portland. 
When they found out about my cancer, they all went to one of my favorite places, at the Riverfront Carousel and they took pictures. They gave me an album with all their pictures, riding the Carousel. They also gave me some presents from the gift shop there! 
Cummings Elementary Fundraising
They have also helped raise funds for me so I can have a good time with my family. They set up a fund in my name and people I don't even know sent money to help out. I want to thank everybody, but I don't know who they are. We have used part of the money on a trip to Disneyland, a weekend trip to the Oregon Coast, a shopping spree for new summer clothes, a trip to Oregon Museum of Science and Industry, The Oregon Zoo, some new toys, several dinners out and a family picnic. We are also planning some other trips in Oregon and possibly to California to go to Sea World and the San Diego Zoo.
Horses!
Two of my teachers have also helped me live my dream of being around horses. Mr. Neal White and his wife Carol take me out riding rodeo horses. They also invited me to visit the Salem Saddle Club anytime I want to, to see their horses Jake and Shasta. Another teacher, Mrs. Sandra Weiss let me adopt my horse Lacey. Lacey lives with Mrs. Weiss and another horse named Sonny. I love to go to her house to see my horse and ride whenever I can. Mrs. Weiss is a 5th grade teacher and I hope I can be in her class next year. 
"I really love school."
I really love school. It is a fun place to be, with my friends. I really think of school as part of my family. I'm looking forward to being a 5th grader!