Parents of Children with Cancer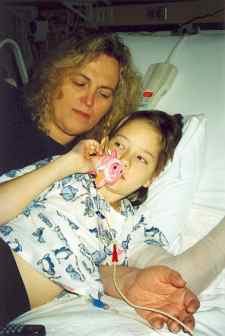 Parents of children with cancer are affected deeply. It is devastating and scary, and somehow through all your own fears, you have to keep it together. This is probably the most difficult path you will take in your entire life.
My best advice for parents of children with cancer… Remember the rest of the family are affected also, so make time for them. Learn to appreciate the good days, hours or minutes that you have. Live in the moment and cherish any joy.
Surround yourself with the support you need including medical professionals, family & friends, information & support groups, clergy, etc. Don't be afraid to ask for help when you need it. I have included a list of resources for parents of children with cancer. See at the bottom of this page.
Love is kissing and hugging away their fears when you have the same fears…
Parents of Children with Cancer: First Entry 6/4/03
Added June 4, 2003: Hi, I'm Loni. I am not Codi's biological Mother, but I am definitely her 'mama Loni.' Codi's mother, a friend of mine, died unexpectedly in 2002. Her family has been crippled by medical bills. This has resulted in a number of problems that led to her placement with me at least until they become better situated to deal with her needs. My bond with Codi is strong and although we are not biologically related, that just hasn't ever seemed to matter to either of us. 
I'll update this page periodically to document our experiences. Hopefully, I'll be able to provide some information or resources that will assist those in need of support in their own battles against cancer. And, for those who aren't in need, perhaps you'll be inspired to get involved in some way – in any way you can, in the fight against cancer. 
One of Those Kids You Fall in Love With
I met Codi in June of 2000. She was one of those kids you immediately fall in love with. I can't explain the bond that instantly formed between us. I don't know if I believe in fate, but something certainly drew us close. Shortly after first meeting Codi, I saw that she had injured her left knee. It had swollen and seemed unusually painful. The family didn't have medical insurance and financial matters were difficult. After some discussion, Codi's mother and I took her to the hospital. I will never forget the surreal feeling after we were told that Codi had cancer. Carrying Codi into the room for her CT scan, I realized her life would never be the same again. 
I remained a part of Codi's life and involved myself in her medical care and regularly visited her at the hospital, sometimes spending the night with her. I experienced firsthand, the sights and sounds of the children's cancer ward. These memories do not ever go away from those of us who have been there. 
"My stomach turned and my heart sank when I saw Codi's hair falling out in clumps…"
Codi completed an aggressive series of chemotherapy treatments over the course of about a year. Her left leg was amputated and a surgical procedure known as rotationplasty was performed, where the ankle is turned around and placed on the upper leg, in place of the knee joint. I was not prepared for any of this. On many occasions, my stomach turned and my heart sank when I saw Codi's hair falling out in clumps, when I saw her walking down the hallway pulling an IV pole and particularly when I saw the results of her surgery. 
The memories are haunting, but unfortunately, the worst was yet to come.
Codi's Remission
Codi was proclaimed to be in remission following her treatments. With my job done, I decided to move from Nevada to Oregon. I settled in Keizer, Oregon and resumed my life. I remained in contact with Codi's family, but was busy getting myself established in a new city. Partly due to my experience with Codi, I joined the Salem Kiwanis Club. This was a perfect fit for me because Kiwanis focuses on community services for children. It was also a perfect fit due to my background with Codi and my feeling that I needed to get involved – to do something to help children like Codi who have to undergo painful and often disfiguring medical treatments and surgical procedures. 
Update 6/8/03
I received a phone call in January of 2002 informing me of the death of Codi's mother. This was totally unexpected and was a complete shock to everyone, especially Codi. I thought to myself, "Why does Codi have to go through this? It isn't fair." I provided whatever solace I could long-distance and kept in much closer contact with Codi, trying to help her sort through her feelings. Perhaps I understood a little better than many others since I lost my father at age 12.  Following the loss of her mother, Codi moved in with her father and step-mother.  
"Why does Codi have to go through this? It isn't fair."
Codi visited me in the summer of 2002. She wanted to stay and was quite persuasive with both me and her parents in Las Vegas. We decided she should remain with me and the family would relocate to Oregon as well. In October of 2002, Codi became ill with what appeared to be a flu. After she did not get better, I took her to the Emergency Room at the local hospital, where she was diagnosed with Type I Diabetes. She is insulin-dependent and receives three shots daily to regulate her blood sugar levels. She also must maintain a regular schedule (no sleeping in on weekends) and eat a balanced diet with carefully controlled carbohydrate intake.
Once again I thought, "Why does Codi have to go through this? It isn't fair." Codi responded to the diabetic diet well and soon resumed her normal activities, although she had to watch her schedule and diet closely. 
Update 6/16/03
Added June 16, 2003: Codi was doing well in school in April of 2003. She was happier than I believe I'd ever seen her. We took her to Shriners Hospital in Portland for a routine doctor visit and CT scan. When we returned for the follow-up, I was floored when the doctor said they had found Osteogenic Sarcoma in her chest which included nodules on both lungs. We were told that the doctors wanted to evaluate her for surgery to remove the tumor in the left lung and the prognosis was that Codi had perhaps a couple years left to live.
"Mama Loni, can I have a horse?"
On the long, mostly quiet drive home after receiving this news I was asking myself what I was going to do. I decided that I'd make Codi's life as enjoyable as possible and make sure she got about anything she wanted. I didn't say anything, but simply resolved to do this in my mind. About a minute later, Codi asked, "Mama Loni, can I have a horse?" I wasn't quite sure how I would give a horse to Codi since we live in a suburban area, where there is probably a law or something, that we can't keep a horse in our back yard. 
The next morning I took Codi to school and met with the staff to let them know what was happening. They had always been very supportive. We had a meeting and there wasn't a dry eye in the room. These people truly love Codi and care about her so much. They had a great deal of time, effort and emotion invested in Codi. During that difficult meeting, I told them about our trip home and Codi's wish for a horse. We then concluded our meeting and I went home while Codi remained in school.
About an hour later I got a telephone call from the school. One of the administrators excitedly told me they had all the horses we would need for Codi, including one she could adopt as her very own horse and other rodeo horses she could ride whenever she wanted. 
"I got two of my dreams today."
Codi met her horse Lacey, a gentle, older Appaloosa mare. They instantly seemed to fall in love. Codi got some quick riding instructions and took to her new horse very well! She even got to gallop a little that day. On our way home, Codi said, "I got two of my dreams today." When asked what those dreams were she said, "to have my own horse and to gallop." 
Codi has also become a frequent visitor to the Salem Saddle Club where a couple of rodeo horses always seem happy to see her. She visits Jake and Shasta who have performed in many rodeos with the drill team. She has ridden Jake and she even went with the drill team to a practice where she rode some of the horses.
This is what we meant when we said magic happens and dreams come true, on the logo for Codi's website. The response by the community and around the world is magical and has caused many of Codi's dreams to come true. 
Update 6/22/03
Added June 22, 2003: The following weekend, Codi started coughing up blood. We took her to the emergency room where they examined her and determined that the blood was most likely due to a cough associated with a virus she had. The following Monday, we followed up with the doctors at Doernbecher Children's Hospital. Codi was admitted into the hospital for observation due to the highly invasive nature of her cancer (i.e. intertwined with her arteries supplying her heart and lungs). While at the hospital, every day was a nightmare with endless bad news, and each day was worse than the day before. We were told the doctors could not perform surgery to remove the tumor because it was too large and would destroy the lungs.
"We were told that Codi only had 2 or 3 months to live."
Much worse than I realized, we were told that Codi only had 2 or 3 months to live. We were also given details about the likely progression of this monstrous disease. It seemed as if the doctors were trying to eliminate any shred of hope we might have had for Codi's survival. In reality, I realize they were being honest with us, but I didn't want to hear what they had to say. Codi's coughing up blood subsided and we now believe it was in fact due to excessive coughing in response to her virus. 
"Codi had been accepted into a Phase I Clinical Trial of a drug called Depsipeptide."
Surgery was performed to look into Codi's lungs and to place a port into her chest for easy IV access. A scope was used to look into Codi's lungs and the surgeon found that cancer had not resulted in a pulmonary obstruction. At last, a little good news! A couple hours later I met with Codi's primary Oncologist who informed me that Codi had been accepted into a Phase I Clinical Trial of a drug called Depsipeptide. After doing some quick research online, asking questions to weigh potential costs and benefits, and talking with Codi, we enthusiastically agreed to participate in the experimental program. A little more good news – uncertain to say the least, but at least it offered a small glimmer of hope. 
Meanwhile, news of Codi's ordeal was spreading rapidly through our community in Keizer, Oregon. Handmade get well cards were made by all her classmates and school staff. The staff of the school knew of Codi's fondness for the hand-carved carousel at Riverfront Park in Salem, so they all went there one Saturday. They took photos of themselves on the Carousel, bought gifts from the Carousel gift shop and prepared a special photo album of their efforts in Codi's honor. Codi's teacher and several other teachers and staff members visited her at the hospital and delivered a bag full of cards, gifts and goodies. 
"I really wanted to draw Codi close to me and never let go…"
At some point following the devastating news, we discussed whether we should pull Codi from school to spend her final time with family and fun activities. After careful consideration, I knew how much school meant to her, how nurturing the staff was and how important her friends were in her life. I really wanted to draw Codi close to me and never let go, but I knew that was the wrong decision. Codi should continue with normal life as much as possible, although she was about to be made something of a celebrity in our community. Codi was able to complete the school year and passed 4th grade. She told me she was really looking forward to 5th grade, next year.
Update 6/28/03
Added June 28, 2003: Largely through the efforts of the school, the community of Keizer also began to take notice of Codi's illness. A Community for Codi day was held on May 25, 2003. Town and Country Bowling Lanes held a benefit day for Codi, where 100% of the lane sales for the day was donated to Codi. Donations were sent to the school from people we don't even know. The local Fire Department donated funds. Businesses put up signs in support of Codi. Fire and Soul, in Keizer also held a benefit day where performers donated their time and people in attendance bought and donated tiles for Doernbecher Children's Hospital. Raffles were also held to raise additional funds.
The Keizer Rotary Club was particularly generous. After hearing Codi's story, they "passed the hat" and raised $2000.00 in a few minutes. They have said this was the largest amount ever collected in such a short time. Codi later attended a Rotary Club meeting and was honored to be elected as an honorary member of the club. 
The local Kiwanis group was also getting involved. Codi's friend Betty, a member of Kiwanis and the Kiwanis Doernbecher Children's Cancer Program (KDCCP) Board, was with Codi every day at the hospital. Kiwanis also donated money for Codi to go to the Oregon Museum of Science and Industry. Spearheaded by the Salem Kiwanis Club, other Kiwanis Clubs joined in and contributed money to pay for production costs of a video for the KDCCP featuring Codi, of course. The Pacific Northwest District of Kiwanis and the Kiwanis International Organization have also taken notice of Codi. She has been asked to be a special guest at the Pacific Northwest District Convention and I'm sure there are other surprises for her, yet to be seen. 
"Codi is the 2003 Grand Marshal for the American Cancer Society's Relay for Life in Marion County, Oregon."
The local American Cancer Society has also been very supportive. Codi is the 2003 Grand Marshal for the American Cancer Society's Relay for Life in Marion County, Oregon. Upon learning of Codi's cancer, a representative of the American Cancer Society visited with her in the hospital. Codi was on the American Cancer Society float in the local Iris Festival Parade. She is looking forward to participating at the Relay for Life in June, 2003. 
Update 6/30/03
Added June 30, 2003: I believe family is important when dealing with any personal crisis. Codi is surrounded by family constantly. We were able to arrange our schedules so Codi was never alone in the hospital – not ever. In Codi's case family includes her immediate family as well as my family (her adopted family). I often describe Codi's school as being part of the extended family. The school has been so important for Codi, making her feel loved and accepted, they have earned the right to be called family. 
"We must accept the diagnosis, but we don't have to accept the prognosis."
We have decided to make the best of our situation. Priorities have been set. I believe we must accept the diagnosis, but we don't have to accept the prognosis. In other words, we understand that Codi has cancer and we will adjust our lives accordingly, however, we will never give up hope until all hope is finally gone. Having hope alone is not enough though. The family has taken on different tasks in support of Codi. I am the overseer of the overall plan and I usually initiate contacts. There are others who do medical research and make contact with hospitals and medical staff. In fact, we learned of a new treatment called Radio Frequency Ablation which the medical staff is presently considering as a possible option. We share in the diabetes care, and will share in whatever caregiving is needed in the future.
We have decided to concentrate on each day and enjoy it to its fullest. This is not as easy as it sounds, but I think we're succeeding and that Codi is enjoying the best times of her life right now. This is the time for living. Perhaps there will come a time for dying, but this is not that time. Not yet. 
"Having other children in the home presents some unique challenges as we concentrate our efforts on Codi."
Having other children in the home presents some unique challenges as we concentrate our efforts on Codi. Each member of the family has his/her own personality and has dealt with Codi's situation differently. I am scared of the future, uncertain of how I will cope and dreading what the doctors tell me will happen, but I know I must remain strong and in control right now. I'll deal with me later.
My son, the 18-year-old is the strong, silent type. He has some very tender and loving moments with Codi, but I spend some extra time with him whenever I can, to make sure he feels he has the support he needs to make it through all of this. My daughter is 13 years old. That age is tough enough under normal circumstances. I believe she is probably incapable of fully understanding the gravity of Codi's situation and is sometimes jealous of the attention, and gifts that Codi receives. I try my best to juggle everything and spend time with my daughter as well and deal with her emotional needs. 
Update 7/18/03
"The Governor of Oregon, Ted Kulongoski, has become one of Codi's biggest supporters."
Added July 18, 2003: We are fortunate to have assembled one of the best support networks for Codi that one could probably imagine. These include many people in our community and a growing number of people internationally who have learned about Codi's ordeals. The Governor of Oregon, Ted Kulongoski, has become one of Codi's biggest supporters. Politics aside, their affection for one another is visibly genuine. Governor Kulongoski always finds time to send Codi e-mails and to visit her, even when she was at the hospital in Portland. He surprised us when he suggested that Codi's 11th birthday party be held at the Governor's Mansion. His staff pitched in and Codi had a birthday party that children dream of! He has also arranged for Codi to have some of her girlfriends over at the Mansion for a slumber party.
Other supporters include local business leaders, Kiwanis members, Rotary Club members, school teachers and administrators, neighborhood children, members of the drag racing community, members of several churches and many others. We are amazed at the show of community support, and it truly makes a difficult situation a little easier to bear.
"We decided to hire the best pediatric Osteosarcoma physician we could find."
The generosity of our community came in handy as we decided to hire the best pediatric Osteosarcoma physician we could find. We researched the subject a great deal and settled on Dr. Norman Jaffe, a leading research physician at M.D. Anderson Cancer Center in Houston, Texas. We submitted all of Codi's films and medical reports and anxiously awaited his reply. We were excited when we got his recommendation for high doses of Ifosfamide and Etoposide, which he reported to have been successful in treating this type of Osteogenic Sarcoma recurrence. 
That same day we had an appointment at Doernbecher Children's Hospital, in Portland, Oregon, with Codi's primary oncologist. We asked the doctors to check Codi's left wrist which was suspiciously swollen and sore. The wrist was x-rayed and splinted. We were told it was likely to be the spread of Osteosarcoma and that bone scans would be scheduled to confirm. We were cautioned not to get too optimistic about Dr. Jaffe's recommendation following this discovery. This appointment led to another long quiet drive back home.
"The best we could hope for was to provide pain relief…"
The following day, Codi was unable to eat. Being diabetic also, this made control of her blood glucose levels impossible. She was taken to Doernbecher Hospital Emergency Room where she was hospitalized. Codi remained in the hospital for almost two weeks. She has lost her appetite, which is a normal progression of her cancer. A G-Tube was surgically implanted in her stomach to allow us to provide the nutrition necessary to keep her alive. Follow-up x-rays and scans show that her left lung is totally obstructed by tumor and fluid. Her cancer has spread to both lungs, both wrists, both shoulders, one elbow and probably to one hip.
This news was devastating and ruled out the last of the very few remaining treatment options (experimental or otherwise) that we had available. We were told that her cancer was growing very rapidly and that curative treatment was not possible – the best we could hope for was to provide pain relief until Codi succumbs to cancer. 
Update 7/19/03
"We have met with hospice staff."
Added July 19, 2003: We have met with hospice staff. They have officially taken over Codi's care. This is an ominous time as we face the reality of what is to come. Still, we focus on the fact that Codi still has more life left in her. Today is all we need, and we'll keep going one day at a time. Unfortunately, Codi is in significant pain and is requiring more and more pain medications. This leaves her tired and sleepy much of the time. At those times when we can get her outside, she tires easily and must return home. 
Being a girl after my heart, Codi is a shopaholic. A couple of days we have enticed Codi to get outside by offering trips to department stores. A little bribery often does the trick. Spending the money is well worth getting her outside and seeing a little happiness on her face.
"I see physical and emotional changes"
I can't fully understand what Codi is experiencing. I see physical and emotional changes that I am trying to understand, but it is difficult even for me. She is tiring very rapidly. She is in pain frequently. This is not the energetic little girl I know. She also has little of her quick wit left. Codi doesn't enjoy the same clowning around that used to snap her out of the doldrums. She has recently become very withdrawn, moody and even belligerent. I pray that I will have the strength to go on with this.
So many times I looked at Codi and thought, she doesn't even look sick. Perhaps they are wrong. Maybe there are doctors somewhere out there that know something our doctors don't (although that would be unlikely). Perhaps the cancer will just stop growing or go into remission on its own. I've even thought how could I slow down or stop time altogether, so I could keep Codi just as she was at that moment in time.
"The care that Codi receives is very time-consuming and complicated…"
The care that Codi receives is very time-consuming and complicated, largely because of the combination of cancer and diabetes. Fortunately, I have help with Codi's care. Our friend Sara takes care of Codi much of the time during the day so I can focus on work. She is good with Codi. Codi loves and trusts her, just as she loves and trusts me. I feel much better knowing that Codi is being well cared for around the clock. Sara and I try to support each other and double-check each other to make sure we're following the proper medical procedures. We have struggled to gain an understanding of cancer, to learn the confusing medical terms and to search for any possible solutions, realizing along the way that time is the enemy. 
Codi's supporters include some of the finest medical minds in the world, influential government and business leaders, school and community members, many members of various churches and so many others that it would be impossible to list them all. Any one of these people would give anything to save Codi, but in the end, nothing will save her. That seems ironic to me, somehow. I'm struggling to try to find some way to understand what is happening but the tragedies in Codi's life defy understanding.
Update 8/10/03
Added August 10, 2003: A lot has happened since my last post to the parents of children with cancer page. Codi's health has steadily deteriorated. She is normally bedridden now and is experiencing much higher levels of pain, although it is controlled by pain medications. She can still walk short distances but usually uses a wheelchair. On those times we do get out it is usually for no more than an hour at a time. Codi usually pays for it afterward, with increased pain, throwing up and fatigue. We are actively debating whether it is worth taking her out of the home at this point. Perhaps it will be better to bring people and activities into her bedroom, rather than stress out her body with trips away from home. 
Update 8/11/03
Added August 11, 2003: The process of hospice care seems surreal. The thought of a cure is gone. A miracle would be nice, but considering the hand Codi has been dealt, it is not likely that will happen. I cycle through emotions, frequently changing moods and sometimes crying at what must seem like inappropriate times. The support of our friends and the community helps a lot. Fortunately, we have so many friends who are willing to help out when we need it most. My friend Sara has become Codi's primary caregiver, allowing me to handle more of the day-to-day matters and focusing on work so we can pay the bills. Codi's grandfather Darel is also pitching in and helping a great deal. In fact, he has remained with her on a 24-hour basis. He is a gentleman whose presence is comforting to all of us. 
"I'm teaching her how to die. I don't know anything about this…"
It also seems surreal that we are preparing an 11-year-old girl (so full of life) for her death. I think back to the matters I dealt with when my son and daughter were 11 years old and I am struck by how different Codi's reality is. At a time when I should be teaching her how to behave like a proper young lady, instead, I'm teaching her how to die. I don't know anything about this, so I'm learning it with her. I struggle to understand the best I can. Codi is dealing with it pretty well. Better than me perhaps.
Update 9/3/03
Added September 3, 2003: We're getting the new house set up. Although hectic, it has been a real blessing for us. The setting is tranquil, good for me escaping the pace of the city and settling into my work. It is also good for Codi and the rest of us to enjoy nature. The home is much larger than our other house so we can easily accommodate her Grandfather who is living with us while Codi is under hospice care. We also have a steady stream of people (caregivers, friends and family) visiting Codi. The new house makes all this so much easier. 
I just sat down and had a beautiful conversation with Codi. First, she asked me for ten dollars. I said yes, but when I pulled out my money I didn't have ten dollars – only a twenty dollar bill. This fact didn't escape Codi as she said, that ($20) will work. I guess she'll use it for another shopping trip.  
The conversation took a more serious, but comfortable turn as we began talking about her Mother. Codi said she talks to her Mother often and that her mother had told her that we should buy this new house. She continued to say her Mother said she wishes she'd had a house like this while she was on earth. Codi then said, she has an even nicer house now in Heaven. It is a beautiful mansion, like the Governor's Mansion, with a creek and a ranch for unicorns and mystical horses, and real horses too. And, I think that sounds wonderful.  
Update 10/3/03
"Nothing could have possibly prepared us for Codi's death."
Added October 3, 2003: Nothing could have possibly prepared us for Codi's death. Yes, we knew she was going to die and we did try to make the most of every day we had with her. I have no experience with death, but somehow I knew she was going to die the night we took her back to the hospital. When Codi died, she was surrounded by people who love her. We held her and talked to her, reminding her of all the wonderful times we've had, telling her how much we love her and how proud we are of her for helping make the world a better place with her website and her work with charities and organizations. We even read one recent entry from her website guestbook that seemed particularly appropriate at the time.
Eventually, it was time to tell her it was ok for her to go on to be with her mother at the mansion, with the ranch for unicorns, horses and mystical horses. It is very unnatural watching a child die. You never feel quite so helpless. You can never really be ready for it. It is forever etched into my memory. But, I will also remember the love of life, reassurance of love and the constant support provided to Codi in the months leading to her death.
"We wanted to be sure to live life to its fullest"
I had to make some decisions when I found out Codi had incurable cancer. One was to keep our family open to the community and to welcome their assistance and support. We wanted to be sure to live life to its fullest, doing the things that Codi enjoyed most. Our goal was to stimulate her in a manner that would allow her to continue living with her cancer, and not lay in bed waiting to die. Finally, I wanted to be sure I could look back on everything we did for Codi and say I have no regrets. As I write this, I have no regrets. I did everything I could, although I wish I could have done more. 
It has been a little over a week since Codi passed away. We're slowly getting our lives back to a "normal routine." (seems an oxymoron) Of course, we miss Codi terribly. Everywhere we look we are reminded of her presence with us. I was at a store a couple days ago, where Codi and I used to do quite a bit of shopping. I saw an item I thought she would like, and instinctively began to reach for it. Then the reality hit me that she is gone. My heart was aching deeply and I began crying, even though I try to avoid public displays of emotion.
"I watched the Carousel going round and round, but Codi never came around…"
Driving around town one day, I felt compelled to visit the Salem Carousel where we spent so much magical time together, so I drove there and walked around, trying to feel Codi's presence. I watched the Carousel going round and round, but Codi never came around, waving in her Rodeo Queen manner. It was a rough day. 
Now is time to resume living my life. It is what Codi would do and it is what she would expect all of us to do. She once told me (following a Mother Oaks grief counseling class) that if she died, she would want us to remember her and be happy with the memories. That is what we're going to try to do. I have consciously given myself permission to be happy with my life, even as I grieve the loss of our precious Codi. I think I am coping well – and then I find myself crying uncontrollably in public. 
We participated in the Light the Night Walk in Portland, Oregon on October 2nd. We had a very short time to prepare, but we made a pretty good showing. It was a great way to honor the memory of Codi. I know she would approve. We'll do even better in the future Relay for Life and Light the Night events.
"Codi has inspired me to be a better person…"
Codi has inspired me to be a better person than I ever could have dreamed of being left to my own devices. At some point Codi became a partner in my activities in Kiwanis and Relay for Life. I was energized by her presence and I learned from her example. I aspired to be more involved and to require more of myself. Many have talked of the things I have given to Codi. Perhaps I did, but it was a mutually beneficial relationship. 
I'm not really a religious person. My spiritual beliefs are evolving.  I was careful to allow Codi to be close to God in her own way. I'm happy to say that she was very secure with her relationship with God. I have a little more difficulty with my own beliefs. However, I often wonder if Codi and I were not supposed to meet, learn from each other and benefit from each other. She was such a special child and I have wondered if she didn't have a special mission on Earth, perhaps as an "angel among us."
I am not sure I'll ever know the answers. I have more questions than answers; Like why did an innocent, kind and caring little girl like Codi have to endure so many horrible events in her life. Why was her life so overwhelmingly difficult and traumatic and yet she could always find a smile and a kind word. 
---
Some Helpful Links for Parents of Children with Cancer
Blood Counts Information for Kids with Cancer– Explains blood counts to children. 
Blortland Chemo Health Site– A fun healing visualization resource for anyone going through chemotherapy or radiation.
Support services for children
BraveKids– Support services for children with life-threatening and terminal illnesses.
Cancer Kids.Com – Incredible stories explaining cancer to kids. 
Cancer Kids.Org – Features the personal stories of children who battle cancer. 

Cancer Net– Read and contribute your own artwork, stories, poems, or ideas.
Cancer Source Kids– A place where kids can learn about cancer and have fun with games and art.
Candlelighters Childhood Cancer Foundation– Information, support and advocacy for families of children with cancer.

Captain Chemo– Primarily for young cancer patients to explain cancer and its treatment.
Get a web page for free
Caring Bridge– You can get a web page for free to update family on progress daily or weekly.
Childhood Leukemia Center– Especially for parents and others caring for a child with leukemia or other cancer.
Families of Children with Cancer– Run by parents of children with cancer serving families who are in treatment, off treatment, or bereaved.
Give Kids The World– A 51-acre, non-profit resort for children with life-threatening illnesses whose one wish is to visit central Florida's attractions.
Give Thanx – Dedicated to building a network between the community and families with Pediatric Cancer.
Health Care Information Resources– For patients, their families, friends, and health care workers.
Hospitality houses
Hospitality Houses– These programs typically provide lodging for families of hospital patients and/or hospital outpatients.
Kids Need Prayer– A wonderful site where you can go and pray for children in need. 
National Childhood Cancer Foundation – The NCCF advocates for the needs of infants, children, and teenagers with cancer and supports medical research to eradicate cancer from their lives.
National Children's Cancer Society – Children's cancer advocacy, support and education services.
NOAH– The New York On-Line Access to Health.
One Voice Across America– Speaking up for children, teens and families fighting cancer
Outlook– The focus of Outlook is to address the needs of survivors of childhood cancer and their families
Resources for parents of children with cancer
Parents Against Cancer– For people whose lives have somehow been touched by childhood cancer and blood disorders.
Parents Association for Seriously Ill Children– Formed by parents that were involved with seriously ill children.
Pray for Kids – Another great site for prayer requests. 
Spinoza's Buddy Bear Project– Check out the 'Buddy Bear Project" to find out how to get a free bear for your child! 
Squirrel Tales– The place to come for practical tips and encouragement for the parents of kids with cancer.
Starbright– Represents a collaboration between pediatric medicine, entertainment and advanced technology.
Wigs for Kids Organization – Provides hair replacement solutions for children suffering hair loss.