Codi Frazier
In Memory of Our Precious Codi Bug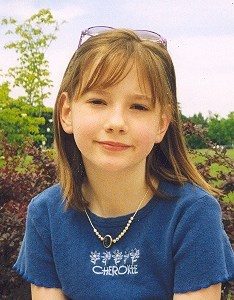 Codi Frazier 7/1/92 – 9/23/03: Codi passed away at 12:52 am on September 23, 2003. She was surrounded by her Grandpa Darel, her Mama Loni, her Mama Sara, her special friend Melodie, and her favorite nurse, John who came in on his day off to be with her. Codibug.com will be maintained in her honor, promoting her causes.
Codi was a precious kid who never seemed to get a break in life. She is a great example for adults, showing us that life is too short to sweat the small stuff. Although life kicked her down repeatedly, Codi knew how to live in the moment and enjoy the special moments, however brief they might be. Codi was surrounded by many great people who loved her and did their very best but in the end, it was not enough.
The grief and sense of loss will last a lifetime but we are comforted knowing that Codi's life on this earth meant something.
Codi's Guestbook: The guestbook is online. Please say hi and let us know you stopped by. You may also read prior messages going all the way back to April 2003 when this site originated.
Original Site Content by Codi Frazier

The following content was created by or at the direction of Codi. She was excited about working on her own website and wanted to share her story with others. Codi liked to have fun and she was certainly a warrior, but she always took time to help other kids who were dealing with their own cancer battles. Children with cancer have to grow up fast and they gain wisdom well beyond their years. The following is the story of Codi Frazier in her own words.
Codi's School: Cummings Elementary
Hi, I'm Codi Jean Frazier, also known as Codi Bug. I'm 11 years old and I have cancer. I hope this website can help someone. My "Mama Loni" helps me with this website, but it is my site. I live in Keizer, Oregon. It is a suburb of Salem, Oregon. I have a lot of friends. I'm in 4th grade at Cummings Elementary School (Go Cougars!!). Please look around my site and then sign my Guestbook. I enjoy reading every message and will respond as often as I can!
Salem Kiwanis Club & Keizer Rotary Club
I'm a junior member of the Salem Kiwanis Club. They are a service organization whose main priority is helping young children. I also recently became an honorary member of the Keizer Rotary Club. They are also a community service organization. They do some great work supporting our schools and other good causes. 
Codi Frazier, Lover of Horses and Wild Mustangs
I have an Appaloosa and ride whenever I get the chance. I decided to include a page on my website to help save the wild mustangs because they need our help too.
Westminster Presbyterian Church
I attend Westminster Presbyterian Church in Salem, Oregon. I've met a lot of nice people there. My faith in God helps when I'm feeling down.
Osteosarcoma
I was diagnosed with Osteosarcoma in 2000. My left leg was amputated, I received a surgery called rotationplasty and I completed chemotherapy. Now in 2003, I have been diagnosed with an inoperable recurrence of the same cancer. I was accepted into a clinical trial for Depsipeptide, but it didn't work. I have now been told that my cancer has spread throughout my body and is incurable so I am in the Willamette Valley Hospice Program now.  
Codi Frazier, Grand Marshal for 2003 Relay for Life
I was chosen to be the Grand Marshal for the 2003 Relay for Life in Marion County. This event is sponsored by the American Cancer Society to raise funds to fight cancer. I hope you will support their efforts.
Governor Ted Kulongoski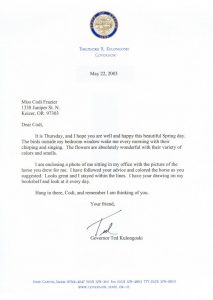 I was really excited when I received a couple of unexpected gifts from Oregon State Governor Ted Kulongoski.  You can see them by clicking the thumbnails at the right. The first one is a personal letter from him, the second one is the picture of him with the drawing that I made while I was visiting with him in May 2003. You can see more pictures from my visit with Governor Kulongoski here.
Governor Kulongoski called and offered to have my birthday party at the Governor's Mansion. We had a big party on July 1, 2003. Mama Loni said it was the party of the year in Salem, Oregon. There were lots of people there, and Mother Goose was there and I helped her bake a rabbit in her magic show! You can see my 11th birthday party pictures here.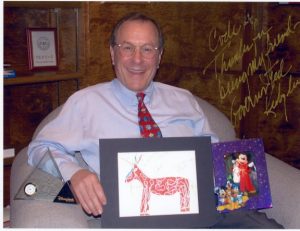 Another big hug and thank you to Governor Kulongoski for letting me have my slumber party at the mansion on July 23rd, 2003 and for the wedding of my two stuffed dogs Patrick and Slush. They were married by a Supreme Court Judge at the Governor's home on July 24th, 2003!
I love Governor Kulongoski, he is a terrific person and he really cares about people with cancer.  His staff is really nice too. I'd like to thank everyone but I don't know all their names.
Codi's Angel Face Iris Named after Codi Frazier
I met with David Schreiner, owner of Schreiner's Gardens in Keizer, Oregon. There is a new variety of Iris that is named after me. It is named Codi's Angel Face. I asked for that name because my Grandmother (Rose Bear) used to call me Angel Face. It is a beautiful pink Iris and I think lots of people will like it. Click Here to See a Photo of Codi's Angel Face!. My Iris is listed on the American Iris Society's Iris Encyclopedia, along with more photos. 
Drag Racing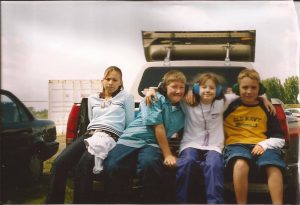 I have made a lot of friends in the drag racing community also. The Capitol Auto Group Racing Team invited me out to be an honorary pit crew member. I also met a lot of other nice people that day like EPHA team driver Mitch Myers and The Mercedes Shoppe team driver Kim Parker. I rode with Kim Parker's Crew that day to pick her up after her race. She ran her fastest race that day and said I was her good luck charm!  When I met Mitch Myers he said he was going to go out on the track and set a record for me – and then he did! I pray for my racing friends to be safe and to win lots of races.
The photo on this page is from our day at the Woodburn Drag Strip. From left to right are Loni Nicole, Teagan, me and Nico. We had a super fun day!
My Songs
Jennifer Kravassi's Song Through the Eyes of a Child is dedicated to Codi. This song is on Jennifer's "Parallel Lines" album. You can listen online at OurStage.com