Codi's Corner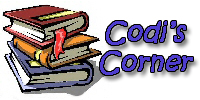 Codi's Corner Memorial Library Collection
This project is completed, but you can still contribute books or financial contributions to help the collection grow.
We have an opportunity to contribute something meaningful to the Cummings Elementary School library. The library is in dire need of books pertaining to the subjects of animals (wild and domestic) and Earth science studies. These were Codi's favorite areas of study. She read books from cover to cover about animals and nature. Sometimes she would amaze me at her knowledge of the subject by pointing out facts that I didn't know. Codi would be so happy and excited about this project. I can feel her enthusiasm!
This project is very important to us for a number of reasons. Many of you know that Oregon's schools have been deeply affected by budgetary cut-backs. We are pleased that such a practical and lasting memorial to Codi has been initiated. Cummings Elementary School is a fine public school in Keizer, Oregon. The Cummings staff were very supportive of Codi and our family in ways too numerous to mention. They accepted Codi with open arms and made sure she was successfully integrated with the mainstream student body. They assisted us in locating the very best medical care for her. Following Codi's diagnosis of cancer recurrence, they became a big part of our extended family. The staff organized fundraising events that made a huge difference in Codi's quality of life during her final few months. They went well beyond being educators. The staff and students visited with us at the hospital. They sent cards and letters and even a video greeting from Codi's teachers and classmates. They laughed with us and cried with us. They remained strong supporters through our journey with Codi, and beyond. 
Please contact us if you can contribute any of the following tax-deductible items;
Age-appropriate books pertaining to animals (wild and domestic) and earth science

Financial contributions to be used for books and/or furnishings

1 Desk (no longer needed)

1 Rocking Chair (no longer needed)

1 Table (no longer needed)

1 Lamp (no longer needed)

1 Area Rug (no longer needed)
Furnishings will preferably be a horse or western theme. 
Contributors will be recognized by a sticker type plaque to be placed inside books. Financial contributors will likewise be recognized by plaques inside the books purchased with their contributions. We wish to thank everyone who is supporting this project. The project will benefit the students at Cummings Elementary School for years to come. 
Contributions will still be accepted. Please contact Cummings Elementary School at 503-399-3141 for more information or to arrange a contribution.
Click Here To See Photos From The Codi's Corner Dedication Ceremony
Generous Supporters of Codi's Corner. 
Generous supporters of Codi's Corner
| | | |
| --- | --- | --- |
| First Lady of Oregon, Mary Oberst | Tim Gilbert | Chris Repine |
| Cummings Elementary Parent Teacher Club | Keizer Kiwanis Club | Bob Repine |
| Cummings Elementary School Staff | LeDoux's Auto Service | Loni Nicole Barrett |
| Corinne Eckley | Canby Kiwanis Club | Wesley Barrett |
| The Barrett Family | Jack Hinkle | Doris Gould |
| Salem Kiwanis Club | Sara Griffith | Marcia Read |
| Jim & Colleen Friedrich | DeLinda McKinney | Mary Holt (in Memory of Chris Holt) |
| Kiwanis Pacific Northwest District | Capitol Auto Group Racing Team | Susan Standifer |
| Sylvester Neal (former Pacific NW District Governor) | American Cancer Society | Bob Clemens |
| Capitol Kiwanis Club | Chelsey Courtney | Shirley Clemens |
| Mary Aichlmayr & Family | Nadia Seledkov | River Road Cleaners |
Generous supporters of Codi's Corner Memorial Library Collection at Cummings Elementary School.